Spicy Mushroom and Tomato Pasta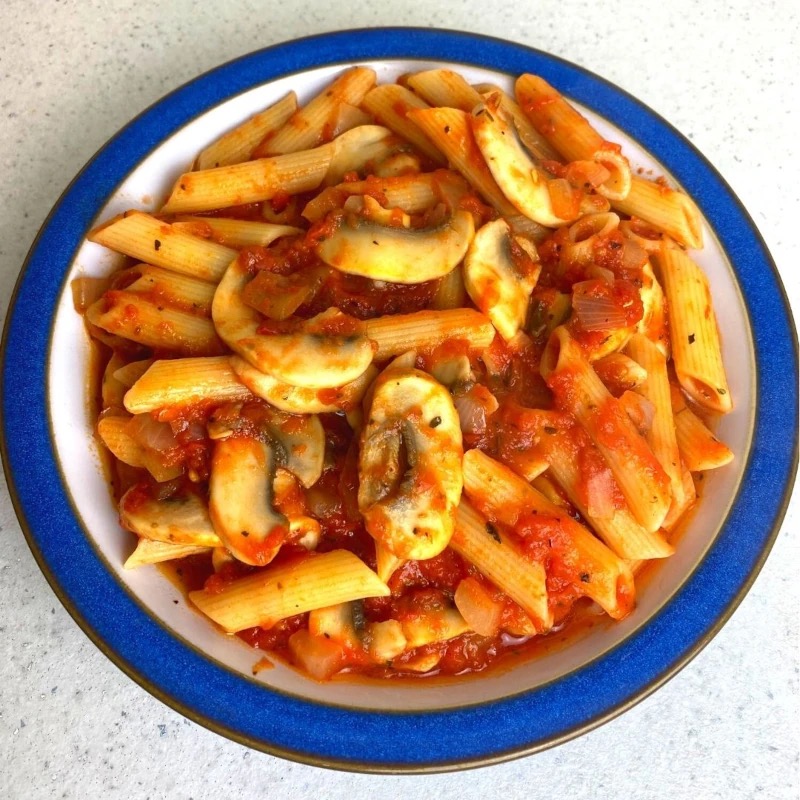 I have created a tasty but easy dish for you to try at home using mushrooms. It's also a great dish to use up your leftovers in and is sure to be enjoyed by everyone.
Ingredients
1 tbsp vegetable oil
1 onion, chopped
200g mushrooms, sliced (I've used closed cup mushrooms but you could use button mushrooms or flat mushrooms)
2 cloves garlic, finely chopped (optional)
1/2 red chilli, deseeded and finely chopped or sprinkling of chilli flakes
1 tsp oregano or mixed herbs
1 x 400g can chopped tomatoes
black pepper
250g pasta (penne or fusilli works well but any shape will do)
Method
Boil the pasta.
Meanwhile, put the oil in a large pan with the onion, garlic and mushrooms. Cook on a medium heat for about 5 minutes until the mushrooms have softened.
Add the chilli, oregano, chopped tomatoes and black pepper.
Bring to the boil and simmer for 10 minutes.
Drain the pasta and stir into the sauce.
To serve you could add some grated cheese on top.
You could use any leftover vegetables you have to add to the sauce such as carrots, broccoli or leeks. You could also add cooked ham, tuna or chicken. Remember to heat through any leftovers in the sauce before eating.