Gold Medal Naan Bread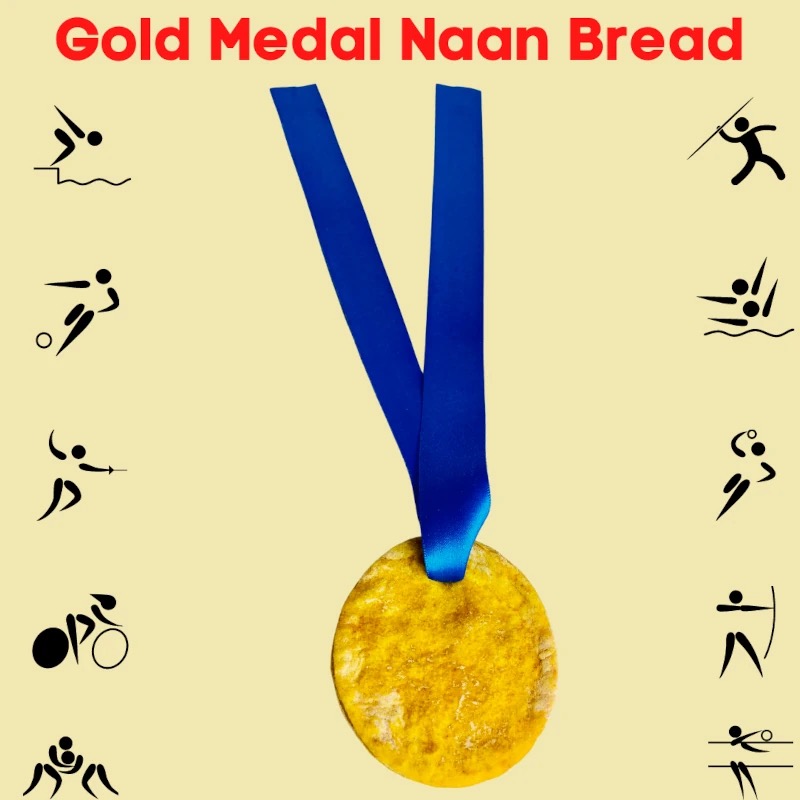 Have you or your family been inspired by the Olympics? I wanted to create a recipe inspired by the Olympics which is easy for children to make and tastes great too. I also wanted it to be a healthy option so I created this recipe. I have coloured the dough using turmeric. As turmeric is strongly flavoured, only a tiny bit of salt is needed in the dough. If you prefer, you could leave the salt out altogether. Have a go and making your own gold medal and let me know how you get on.
Ingredients
125g plain flour
1 tsp baking powder
½ tsp ground turmeric
tiny pinch of salt (you can leave this out if you prefer)
5 tbsp cold water
olive oil
cookie cutter or mug
wooden skewer or sharp knife
ribbon
Method
Add the flour, baking powder, ground turmeric and salt (if using) into a bowl. Stir with a spoon to combine.
Add the water and knead with your hands until it forms a smooth dough. If it's too sticky, add some more flour. If it's too crumbly, add some more water. Cover the dough with a tea towel and let the dough rest for a couple of minutes.
Divide the dough into two parts and roll it out until fairly flat. Using a cookie cutter or the top part of a mug turned over, cut out circles for your medals.
Heat a frying pan until very hot. Just before putting in, very gently wipe some olive oil on one side of your naan with your fingers and place your naan bread in the pan. Cook the naan for no more than 30 seconds each side or until it starts to bubble. Repeat for the other naan bread.
The golden colour will get brighter as the naan bread cools so don't worry if your naan bread doesn't look very golden when you have just cooked it. The olive oil enhances the colour.
Once cool, make a small hole at the top of you naan bread using a wooden skewer or sharp knife and insert the ribbon.
Hang your Gold Medal Naan Bread around your neck and wear with pride!