The Hungry Caterpillar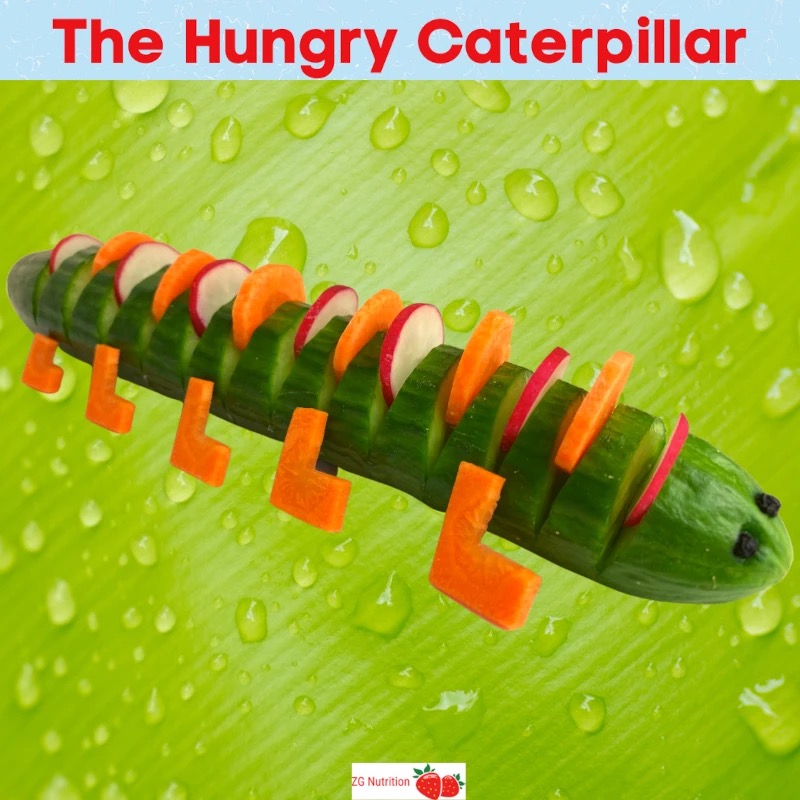 Today is World Book Day so here is a super easy recipe for you to make with your child or in your early years setting.
Ingredients
1 Cucumber
5 or 6 Radishes
2 Large Carrots
2 Peppercorns
Method
Lie your cucumber on a chopping board. Using a sharp knife, cut V-shapes along the top of your cucumber. Make sure you leave a gap for the head. Younger children could do this with a plastic knife under supervision.
Slice your radishes and carrots. Place in the V-shape slots along the cucumber.
Push 2 peppercorns into the front of the cucumber to make eyes for the caterpillar. You may need to poke a small hole with a sharp knife in the cucumber first to secure them.
To make the feet, cut 10 slices of carrot. Cut the sides off each carrot slice to create a rectangle. Cut out a smaller rectangle shape from the carrot to create a foot shape. Match feet shapes of similar sizes along the side of the caterpillar.
You can use any seasonal vegetables that you have spare in your fridge. Vegetables that work well include spring onions, tomatoes, lettuce, pepper, spinach, watercress, rocket, cooked beetroot or cooked asparagus spears.
I used the leftover slices of veg to create a seasonal salad to serve alongside the Cucumber Caterpillar.