Asparagus Tortilla Pizza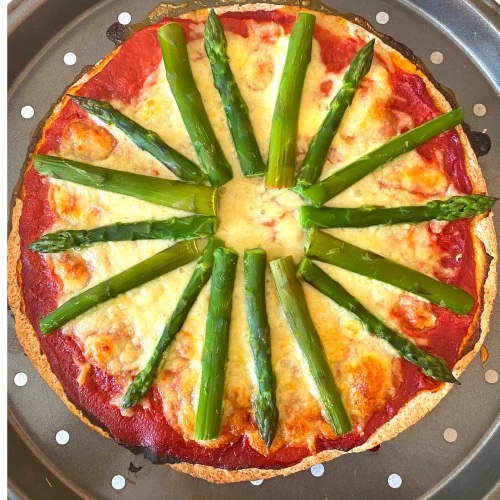 British Asparagus is in season right now! Make the most of this delicious and succulent veg by using it in this easy to make tortilla pizza. Perfect for little ones to make themselves and an excellent recipe to use up any leftover Asparagus.
Ingredients
4 wholemeal tortilla wraps
1 tube of tomato purée
4 large handfuls of grated reduced-fat mozzarella
1 bunch of cooked asparagus spears, cut in half
Method
Set the oven to 220°C or 200°C if you have a fan oven.
Place a tortilla wrap on a pizza tray or baking tray.
Using a spoon, spread some of the tomato purée across the wrap.
Sprinkle some of your cheese across the pizza.
Arrange the asparagus across your pizza. You can use any leftover asparagus you may have.
Cook in the oven for about 10 minutes until the cheese has melted and it is starting to go brown.
Serve with seasonal salad leaves and other seasonal salad vegetables such as peppers, cucumber and radishes.