Egg Summer Salad Bowl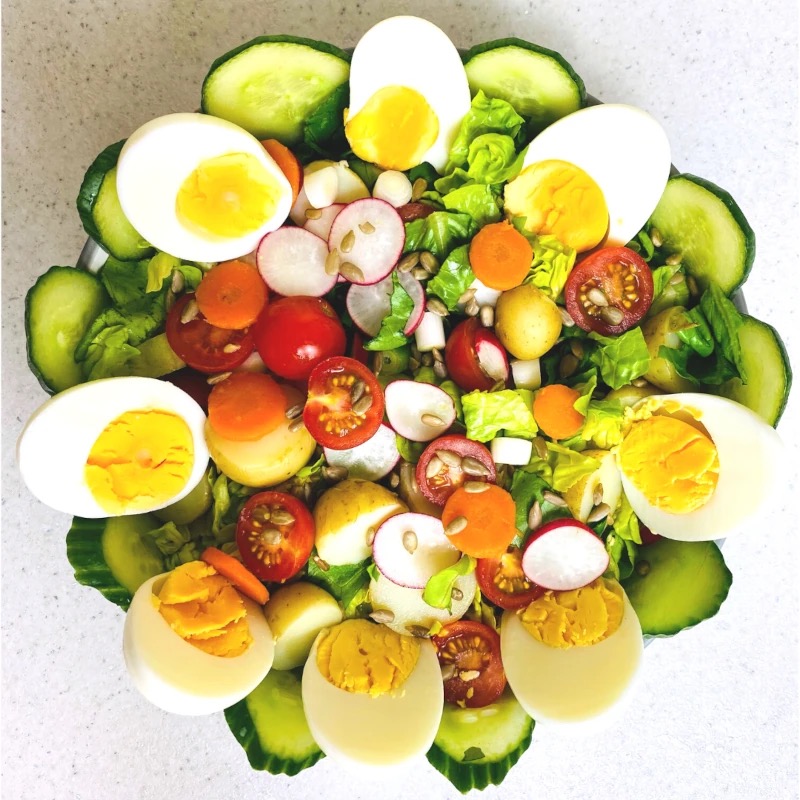 My new recipe for a simple summer salad bowl which is simple and nutritious. Veg Power are running a campaign this week to encourage families to serve salads as an affordable and nutritious meal. Salads are often served on the side but with the right extras (e.g. protein and carbohydrate sources like the egg and potatoes in this recipe) they can form a balanced meal. As an added bonus, salads are a fantastic way to use up leftovers that might be lurking in the fridge, like the lettuce I used in this recipe which I revived by soaking it in ice water for 15 minutes and then patting dry. I have also used cooked new potatoes and carrots from yesterday's dinner. You could use any veg you have in your fridge such as avocado, asparagus, celery or beetroot.
Ingredients
Serves 2
1 soft lettuce e.g. Butterhead lettuce, sliced
100g radishes, sliced
100g cherry tomatoes
100g cooked carrots
150g cooked new potatoes
bunch spring onions, sliced
1/2 cucumber, sliced sideways
30g sunflower or pumpkin seeds (optional)
4 eggs, boiled for 8 minutes, shelled and sliced in half lengthways
Dressing
3 tbsp low fat natural yoghurt
1 tbsp reduced-fat mayonnaise
1 tbsp chopped fresh herbs such as parsley (optional)
Method
Arrange the lettuce in the base of a salad bowl.
Arrange the chopped vegetables over the top, placing the cucumber slices around the edge of the bowl.
Sprinkle with sunflower seeds.
Place the boiled eggs around the edge of the bowl.
To prepare the dressing, mix the yoghurt with the mayonnaise and stir well. Mix in chopped herbs if using and stir well. If desire, the dressing can be drizzled across the salad.
Serve with crusty wholemeal bread.